Board Covers
Surfboard bags are one of the best investments you can make in your surfing equipment. The right one will keep your valued surfboard or quiver safe through years of surf travel or daily use. In essence they are very simple, but as with all of our products - it's the details that make the difference. Roam boardbags have been tried and tested, hauled through airports, loaded on boats, tied to tuk tuks.
Here's our guide on what matters most in Roam travel tested surfboard bags:
SOCKS
Lightweight woven surfboard covers to protect against dirt, scratches and keep waxed surfboards from away from other surfaces. Good for daily use in cars, storage or within Roam travel board bags or Roam coffin boardbags for extra padding when travelling.
DAYBAGS
Lightweight surfboard bags. Good for daily use especially when walking to the beach. Heat reflective materials keep heat away and thin (usually around 5mm) padding protects against small impacts. Can be used within a larger Roam travel surfboard bags or Roam coffin for extra protection and daily use on arrival.

TRAVEL BAGS
Usually defined by thickness of padding (minimum 8mm but should be around 10mm) and more heavyweight materials and construction. These often have space for more than one surfboard (or a board within a Roam Daylight bag) and come with more features like more handles or tie down points and ID pockets.
COFFINS
For serious surf travel with 2+ boards. Minimum 10mm padding and heavy- weight construction. Our Roam coffins accommodate 2+ boards including Roam socks or Roam daylight boardbag, plus wetsuit/boardies/surf gear. Available in wheeled coffin and non-wheeled coffin versions. Be aware wheeled coffin versions can be heavy so check surfboard luggage allowance.
SIZE / SHAPE
Most surf boardbags are available in a range of shapes to suit the surfboard type: Fish, Shortboard, Longboard etc. The difference is mostly in the nose shape and width. If in doubt buy a boardbag with a wider nose shape - a shortboard will still fit in a Fish bag and when carrying 2 surfboards more space helps.
A Roam surfboard bag is designed to fit the surfboard it's labelled for: a 6'8 bag will fit a 6'8 board. If the bag itself is 6'8" in length then it's really a 6'6 bag. Not all brands do this so make sure you check.
Width is also key, especially when packing 2 or more surfboards.
Note also the tail shape or if there is a tail box or expanding fin area to allow a surfboard to be put in with fins. (Always remove fins before travelling by air)
At Roam we list all dimensions of all our bags on our website, including weight.
MATERIALS
1. OUTSIDE LINING:
For Roam Daylight Bags and some Travel boardbags - Silver Heat Reflective

For Surf Travel and Coffin - Hard wearing rip stop, nylon or similar
2. INSIDE LINING:
All Roam boardbags have tarpee – does not stick to wax.
3. PADDING:
Roam Day Bags have 5mm

Roam Travel Bags have 10mm

Roam Coffins have 10mm with additional padding on the sidewalls
KEY FEATURES:
ZIPS
A poor quality zip is a deal breaker; when regularly in contact with sand and salt bad zips fail quickly making the bag useless.
Plastic sliders wont corrode but are less strong. Metal zip sliders are stronger but more likely to corrode and seize - always get coated sliders and keep them oiled when in storage.
ZIP LENGTH
If a surfboard bag is left in the sun, the wax melts then sticks to the bag. A short zip, just around the tail makes it a mission to get the surfboard out.
ROAM travel bags have a long zip so you can pack your wetsuit, towel or extra padding all around the surfboards.
VENTILATION
The insides of surfboard bags get surprisingly hot, and surfboards don't like heat. Ventilation is vital on any board bag.
EXTRA FEATURES
ID Badge
Padded Handles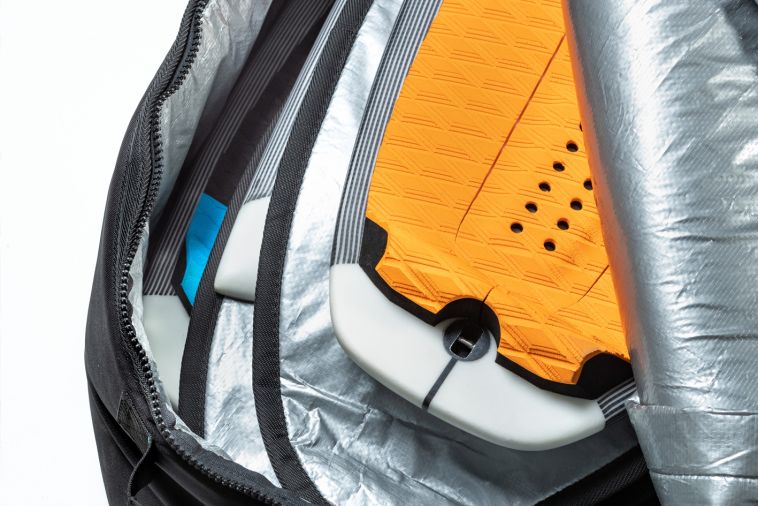 Spreaders / Inlays
Pockets
Grab handles, utility loops
Fin Slot